Whether you're creating a contact form, a sign-up form, or you want to conduct a survey, the range of form builders is immense (and you'll want to know which one is the best, of course).
The great thing is that these tools eliminate the complicated part of programming, which means you often just need to drag and drop a few elements until you're satisfied. Most construction kits already offer ready-made forms that you hardly need to make any adjustments to.
Forms are an important tool and belong in every marketer's toolbox because they are suitable:
to capture leads;
to learn more about industry developments;
for market research;
for customer feedback
and for much more!
Since you are looking for the best online form builder for your business, in this article we will highlight all the pros and cons of each solution.
If you specifically need a tool to create surveys, check out my article about free survey tools.
Tools: Which is the best online form builder?
HubSpot: A free and easy-to-use all-in-one package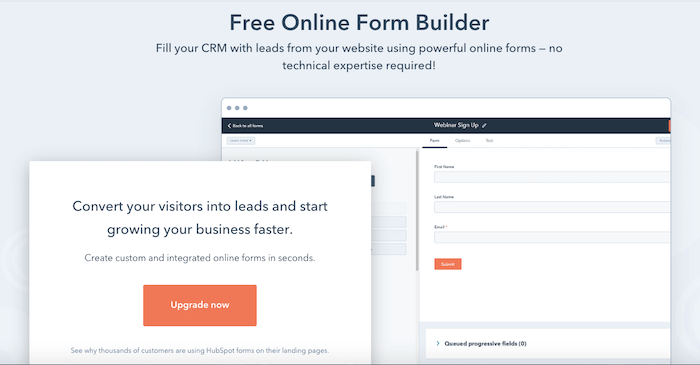 HubSpot's clean interface and ready-made templates make setting up a contact, registration, or newsletter signup form very easy! In addition to a traditional contact form, you can also set up pop-up forms that appear on certain pages.
There is a drag-and-drop editor at your disposal, which contains all the necessary options to build forms quickly and easily. You can also set up a simple email for follow-up. It should be noted here that if you get the HubSpot Marketing starter plan, you can create an automation workflow to nurture leads.
As for reporting, the data is clearly presented, and with a higher plan, you can customize the dashboard to your specific needs. The great thing about HubSpot is that the contacts generated by the forms are all transferred to the tech-savvy CRM. There you can then create tasks, add notes, set lifecycle stages, etc.
Otherwise, there's also a "DSGVO mode" that you can activate in the backend, for advanced data protection.
One drawback, however, is the fact that you can only pay HubSpot in US dollars, which can lead to transaction fees and fluctuating amounts.
HeyForm: many modern and attractive templates
HeyForm is really easy to use and offers some of the best templates I've seen. There is a very large selection and with 15 categories, there should be something for everyone. Another plus: all templates are already included in the free plan.
HeyForm's free subscription is quite generous, to be honest – up to 100 responses per month, as well as unlimited forms and surveys are included. Plus, you can add unlimited fields and get up to 2 subdomains.
If you need more options, like an unlimited number of answers and video questions, you can get the whole thing in the Lite plan for just 7.9$ per month. With the Pro plan (19.9$ per month) you can accept additional payments and use so-called "Logic Jumps".
You can then either embed the created form directly on your website or share the link to it. The responses to it will be saved in your response inbox (you can also have the responses sent directly to your personal email inbox as a PDF).
Typeform: For those with an eye for design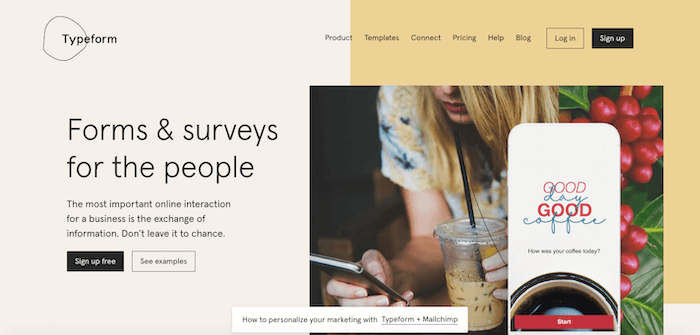 Typeform specializes in forms and surveys and has enjoyed increasing popularity since its founding in 2012.
Typeform shows a young and hip side, and this look is also reflected in the various form templates. What's quite nice is that the tool's contact forms are designed in such a way that the whole process of filling them out feels very personal and almost human. This is because you have several options available to you and you follow an if-then logic to jump to the next question.
Although this may sound complicated, it's really easy to set up and edit the forms.
In order to use Typeform, you need to connect your account to your email marketing provider or CRM, because this is not included in the offer.
Wufoo: Accept payments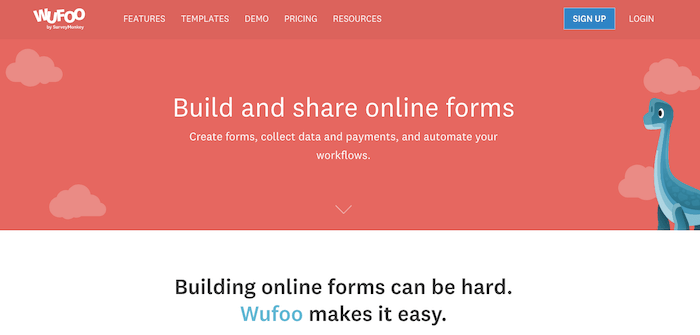 Wufoo offers over 400 customizable templates, which all serve their purpose. I would recommend using one of these templates because the number of possible options in the editor might overwhelm some a bit. I was surprised that the feature to set up a confirmation email was so hard to find, perhaps because it is not included in the free version. The paid plan here will cost you $19 per month.
Wufoo also lets you accept payments via PayPal or Square, though that's a bit pricey at $39 a month. All in all, it's not a bad product, but it's a bit surprising that no major update has been made to the editor's design in at least 7 years. Maybe users are just happy with what they have.